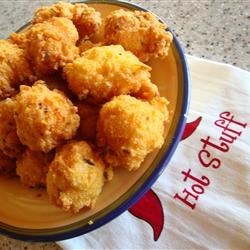 I LOVE hush puppies, but I have never been able to make them as good as the ones at the seafood restaurants. Today we were going to have fish for supper, so I went online to find ANOTHER recipe to try. I read a lot of reviews and decided to try
this
one. It was SO good. I did make some changes, after reading the reviews and they were PERFECT.
2 eggs
1/2 cups sugar
3/4 cup onion, diced
1 cup self rising flour
1 cup self rising cornmeal
1 tsp. each salt, pepper and onion powder
1/4 cup buttermilk
In a bowl, mix the eggs, sugar and onion. Stir in the flour, cornmeal and seasonings.
Mix in the buttermilk and drop by teaspoonful's into hot oil and fry until golden brown.